This 2.44-acre parcel provides access directly from Shell Beach Drive. With the right house design, it offers a view of the Lake, especially from a second level.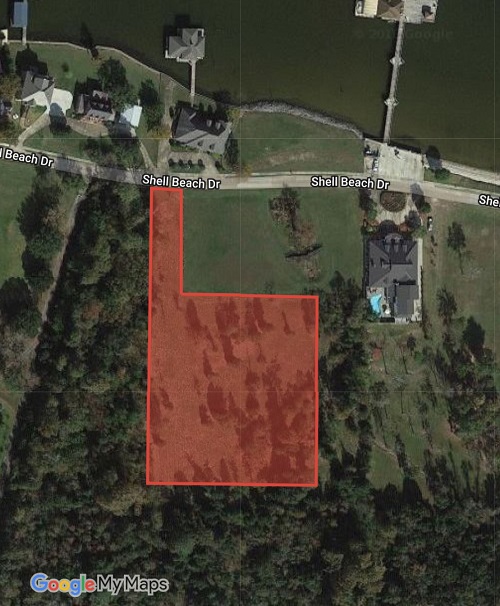 The image to the right indicates the configuration of this impressive parcel featuring these generous measurements:
50' on Shell Beach Drive

520' West Property Line in common with Lot 6 of the Barbe Lakefront Partition.

286' South Property Line

354' Eastern most property Line

236' North Property Line

175' Length of ROW for driveway or road
This link leads to a Google Map of the property which indicates its proximity to downtown
Lake Charles, the hospital and medical community, Interstate 10 and Interstate 210.
The site offers an estate-like setting for a single residence. The size and configuration are large enough to accommodate multiple lots.
While an application would have to be made to re-subdivide, there are several possible ways to divide the property. One option is to divide into two, three, or four lots. Assuming an extension of the lane off of Shell Beach Drive:
A drawing of an 8-lot subdivision of smaller lots is available for prospective developers to consider.
Another option is to create an even larger parcel by combining with one or two of the adjoining properties that are also available. This link leads to the property to the West and North of the 2.44 acres.
Simply call listing Broker Mary Kay Hopkins at 337-439-1079 for more information.