Imagine the setting that 4.32 acres with 800' along the beautiful and historic Contraband Bayou offers your enterprise! Whether you have a restaurant, pastry or malt shop, or any business that would benefit by providing a never-before-available view to your customers, this property deserves your immediate attention!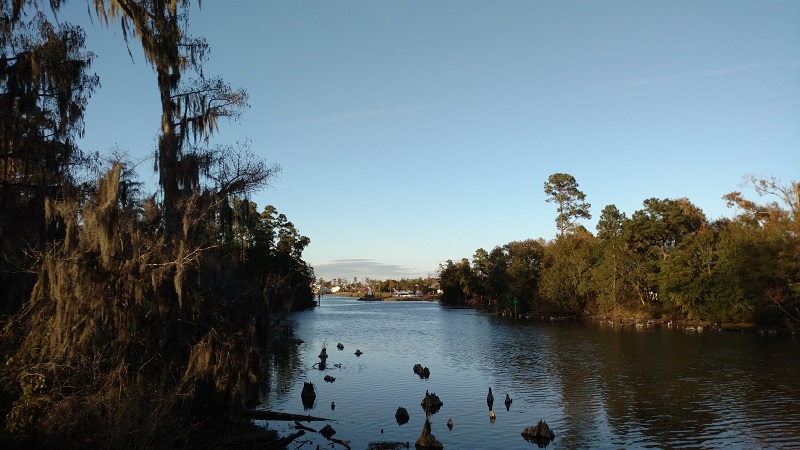 Area 4 is to the immediate North of the property purchased by Shuck and Boil of Lake Charles.
The positive local reaction to the announcement that the Lake Area will soon have a high-caliber restaurant on the water is such that this location lends itself to other food and beverage operations.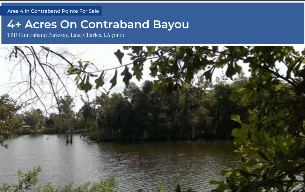 Click on the image to the left or this link to open a brochure specific to this Contraband Pointe property.
The parcel size presented here should be considered as an example only as additional property or smaller parcels can be achieved.
Need less property? Consider Area 4A.

Only need an acre? That can be arranged as long as the

property is contiguous to property already closed and the buyer builds a road to city standards. This is not a requirement for the purchase of all of Area 4

If additional property is required, check out the combination of Parcel 4 and 8D, also featured on this page.

Grand plans requiring more than 1,000 feet on the water? Additional waterfront property is available to the north.
While buyers are not required to install a public road with the purchase of Area 4, cross-access on the North boundary is required.
The image below provides a general idea of the location. Better yet, click on this link to a Google Map showing all of Contraband Pointe for an interactive view.