With 800 feet along W. Prien Lake Road and 922 feet fronting Contraband Parkway, this prized property contains approximately 12 acres.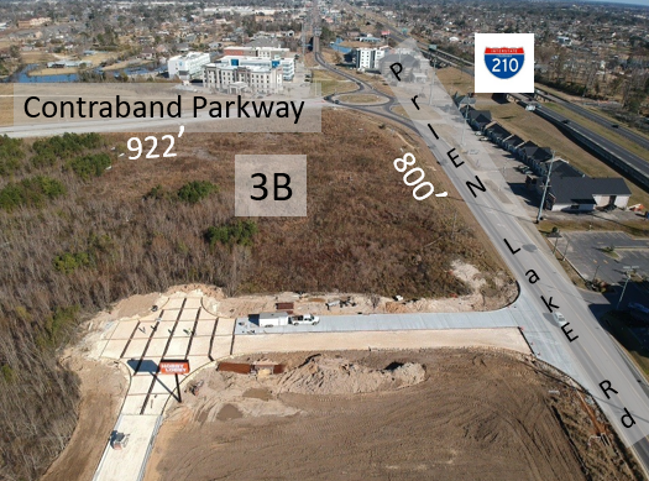 As indicated on the image to the right, the entrance to Contraband Pointe off of W. Prien Lake Road is under construction as is the eagerly anticipated 60,000 square foot Hobby Lobby.
The Seller will provide the ROW for the construction of the remainder of the N/S road which will extend from the entrance at W. Prien Lake Road to Contraband Parkway.
The price per square foot based on days to close from the date of the Purchase Agreement:
$11.25/SqFt ($5,390,559) if closed within between 121 and 180 days

$10.25/SqFt if closed in 120 days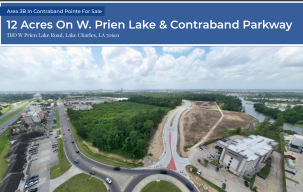 Click on the image to the left or this link to open a brochure about this property.
All wetlands in this parcel have been mitigated and a Traffic Impact Analysis approved by LA Department of Transportation.
This incredible parcel benefits by the traffic counts on W. Prien Lake Road and Interstate 210 as well as the visitors generated by L'auberge and Golden Nugget Casinos.
The site offers visability from I-210 and is in common with the traffic circle at Contraband Parkway and W. Prien lake Road.
Within 1,800 feet of the entrance off W. Prien Lake Road, there are approximately 900 hotel rooms! These hotel guest will appreciate the sidewalk that runs along both sides of Contraband Parkway. There are a total of 16 hotels with approximately 3300 rooms within 1.5 miles.
This link leads to a list of nearby retail and restaurants.
If more property is needed, consider:
Area 6E on Contraband Parkway is an attractive option if less property is needed as is Area 3A which is contiguous to Hobby Lobby.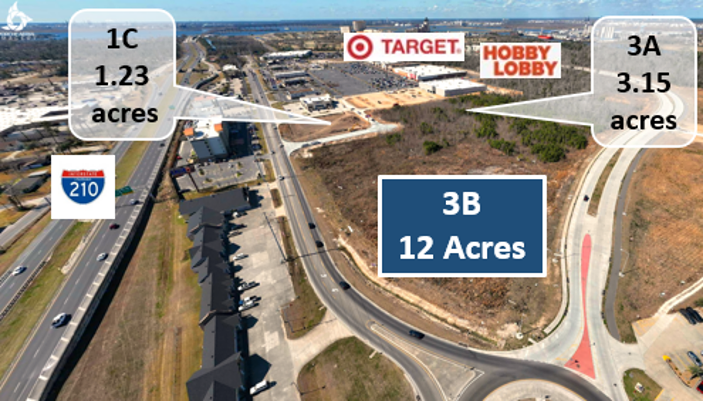 Above: 3B (right) starts at the apron that will be where the E/W road between 3B and 3C will be placed. Note that 9 of the 10 hotels on W Prien Lake Road show in this photo. The 10th is at the nearby intersection of Nelson and W Prien Lake Road.

Below: 3B is in common with the traffic circle and offers 800 feet along W. Prien Lake Road and 922 feet to what will be the E/W entrance from Contraband Parkway.. Not shown is the entrance off of W Prien Lake Road which is to be constructed by the developers of the Hobby Lobby parcel. Construction on the 60,000 SqFt Hobby Lobby building to the East of Target is underway.


This is a GIS image illustrating the proximity of Contraband Pointe to L'aubergeand Golden Nugget Casino and Golf Resorts. The numbers on the highlighted map correspond to the various parcels that are available and described elsewhere
on the website.