Located on sought after W. Prien Lake road and to the immediate East of LA-Z-BOY, this is a highly visible retail property referred to as a Lot 1C.
The price per square foot below based on days to close from the date of the Purchase Agreement is as follows:
$23.00/SqFt ($1,232,312 as listed in MLS) if closed between 121-180 days

Reduce by $.50/SqFt if closed within 120 days
As indicated in the image to the right, Hobby Lobby is under construction. It will be to the immediate East of Target which is located in Prien Plaza.
The Hobby Lobby developers are also constructing the driving lane behind the outparcel as well as the entrance which is to the immediate East of this property.
Wetlands have been mitigated and a Traffic Impact Analysis approved by the LA Department of Transportation.
This offering, like all of Contraband Pointe, benefits by the traffic counts on W. Prien Lake Road and Interstate 210 as well as the visitors to L'auberge and Golden Nugget.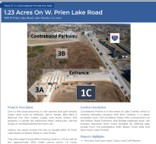 Click on the image to the left or this link to open a custom brochure.
Larger configurations are available such as Area 3A and 3B and all of Area 3.
Area 6E on Contraband Parkway is an attractive option if a slightly larger property is needed.