Located to the East of Prien Plaza, a highly successful retail property on the corner of Nelson and W. Prien Lake Road, Area 3A consists of approximately 3.15 acres.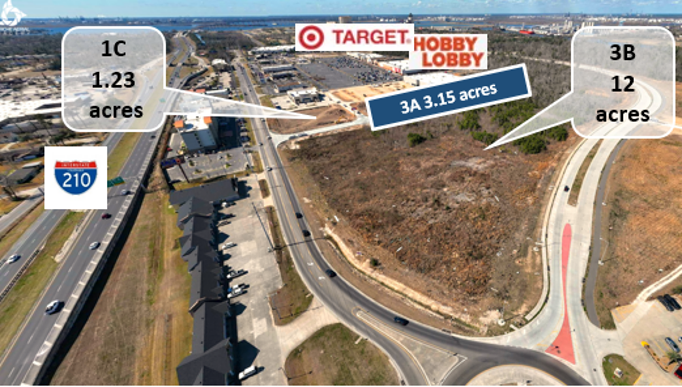 The image to the right shows the Hobby Lobby which is under construction.
The developer for Hobby Lobby is in the process of completing the driving lane along the South boundary as well as the main entrance which has been approved by LA DOT as a full access entrance.
The price per square foot based on days to close from the date of the Purchase Agreement:
$9.25/SqFt ($1,269,230) if closed between 121-180 days

$8.25/SqFt if closed within 120 days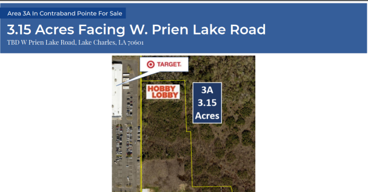 Click on the image on the left or here to open a brochure regarding Area 3A.
Larger configurations are available such as Area 3A and 3B and all of Area 3.
Area 6E on Contraband Parkway is an attractive option if less property is needed.
Area 3B and the outparcel in front of 3A referred to as "1C" and can be purchased separately or combined as listed within this section.
The acreage represented here reflects a reduction in property as the Seller has agreed to provide the ROW for the construction of the remainder of the N/S road which will extend from the entrance. Buyers are responsible for infrastructure, including the N/S extension road from the entrance.